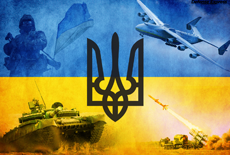 Dear friends!
On the occasion of the most important day in the history of our country - the Independence Day of Ukraine, we sincerely congratulate you! Today we not only celebrate independence, but also honor those who defend our country with incredible courage and sacrifice.
Let the pride of our independence always resound in our every step, and the memory of those who stand in defense of our land - inspire us to great actions and achievements. We are proud of the soldiers who stand on the front lines with indomitable spirit and courage, defending our future. From the bottom of our hearts, we express our gratitude for your dedication, for your willingness to give everything for the sake of the freedom of Ukraine. You are real heroes who deserve our full respect, gratitude and boundless love. May your efforts always be accompanied by success, and the road home be open and safe.
Let peace and harmony reign in every corner of our country. Together we are strong, together we are invincible!
Glory to Ukraine!!! Glory to Heroes!!!